"Give justice to the weak and the fatherless, maintain the right of the afflicted and the destitute. Rescue the weak and the needy; deliver them from the hand of the wicked." Psalm 82:3-4
Accomplishing the mission of AMOH is made possible through the vital roles of our volunteers who are praying, doing sidewalk counseling, and serving on pregnancy care teams. Additionally, individuals may apply for a paid internship.
Sidewalk Counseling
Sidewalk counselors stand in the gap for the preborn and their mothers by being present outside the abortion facility to pray and offer hope and help. Unlike "anti-abortion protests," our compassionate, peaceful, and law-abiding, trained volunteers respectfully seek to start a conversation and give a bag with snacks, small gifts and life-saving literature describing resources and alternatives.
Following the abortion procedures, volunteers are also present. They offer prayer, give information about recovery help, and let the women and couples know they are not beyond God's redemption.
Redemption through the gospel is both the foundation and motivation of our ministry. As God has rescued us from spiritual death, we are called to be rescuers of others (Proverbs 14:25, 24:11; 2 Corinthians 5:20, 10:5). By the grace of God, many have been rescued because someone was present!
Our goal is to have at least three trained sidewalk counselors in the public right-of-way outside of the facility every hour they are open. Help us accomplish this objective by volunteering to pray or serve as a sidewalk counselor. Also, join us for specific prayer events held throughout the year.
See the events page for dates and more information. Scroll down to read frequently asked questions and learn how to become a volunteer.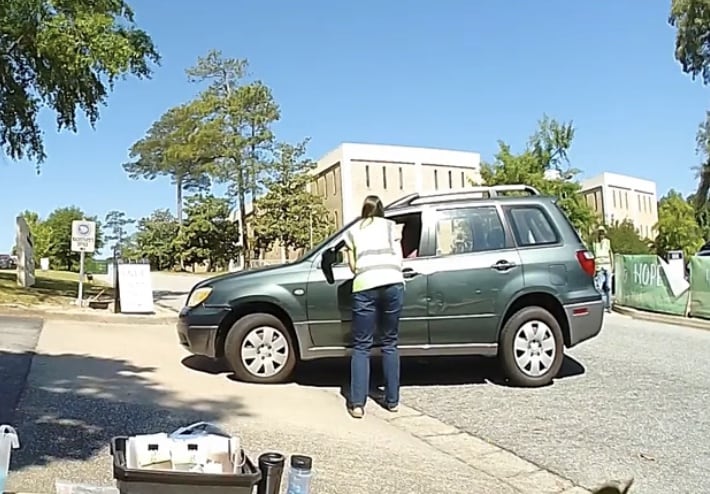 "Scripture dwells lovingly on tiny things: a mustard seed; two copper coins; every sparrow; a still, small voice; and an embryo already given the Name above all names. On the sidewalk, we are given a moment into which the Holy Spirit breathes first love, then truth, then hope. Hundreds of people say little prayers, a few words are exchanged, a tiny person is loved by a "yes" into life, the God who became an embryo weeps for joy."
 – Gary, volunteer since September 2018
Pregnancy Care Teams
A natural extension of gospel-driven sidewalk counseling is offering follow up care. As Christians, we are not merely "pro-birth." Through years of doing this, we have have found many women coming for an abortion have significant practical needs and little or no support. Some have never had nurturing parenting or a positive role model. Looking for answers beyond themselves, it is a pivotal time for disciples of Jesus to enter their lives.
To do this, we have developed Pregnancy Care Teams: an organized approach to sacrificially serve as the hands and feet of Christ beyond the sidewalk.
A Pregnancy Care Team is a trained group of women or couples from a local church who team up to walk alongside a mother who has chosen life. Over a year, they offer support by:
hosting a baby shower
befriending, encouraging, and mentoring
evangelizing and discipling
assisting her practically as needed
Not every woman who chooses life desires a team. For those who do, the teams are a bridge from a place of death, the abortion facility, to the local church, a place of life and hope.
"Because we loved you so much, we were delighted to share with you not only the gospel of God but our lives as well." 1 Thessalonians 2:8
The Vision for Pregnancy Care Teams:
Local churches become known as places of refuge and help for women making pregnancy decisions.
The preborn are rescued from death because their mothers receive love and care and are no longer tempted by the lie of abortion.
Lives and legacies are transformed by the gospel.
In the first year, twelve care teams launched across the greater Columbia area. The number has been steadily growing ever since!
Consider forming a team at your church to provide this essential gospel-centered follow up care. Scroll down to read how to do so in the frequently asked questions.
"When [Jesus] saw the crowds, he had compassion for them, because they were harassed and helpless, like sheep without a shepherd. Then he said to his disciples, "The harvest is plentiful, but the laborers are few; therefore pray earnestly to the Lord of the harvest to send out laborers into his harvest."
Matthew 9:36
"'I'm too busy.' was my first thought when I was approached about being on a care team. As the wife of a chaplain and mom to 3 young kids, my primary ministry is to my husband and my children. How could I make the time? In the days to come the Lord would remind me that I wouldn't be doing this alone, but hand-in-hand with other loving Christians. And we would quickly find that by giving the simple gifts of friendship and compassion, God would take our small efforts and multiply them. There have been moments when I've felt as if I was on a mission trip as my faith has been stretched and taken me out of my comfort zone. Those are moments I will always remember and cherish."  -Stephanie, January 2020 Team
Internships
A Moment of Hope offers paid intern positions both part time and full time. Participating in strategic pro-life outreach, the interns receive training and coaching and valuable ministry experience while multiplying the work to save lives. Interns primarily do sidewalk counseling, but also help facilitate events, assist administratively and serve with other skills or experiences they may have.
Anyone who has a heart to serve, is a follower of Jesus Christ, and is an active and accountable participant in a local church body is welcome to apply. Our interns have been both men and women of a variety of ages.
Consider joining our team to grow in your walk with the Lord, see Him work in remarkable ways, develop skills, and be a part of saving lives and sharing the gospel for the Lord's glory!
Scroll down to read frequently asked questions.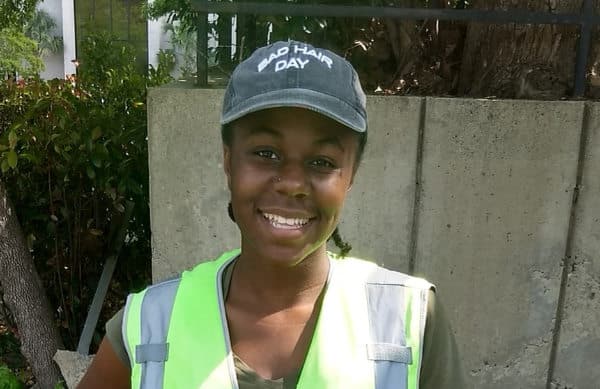 If there was one word to describe my internship at a Moment of Hope, it would be: grace. I say that because I was once an abortion minded individual. So when I found out about this opportunity and saw how God just clearly opened the door, I was speechless. Since my first day as an intern until now, I have never regretted it. To see women turn around from killing their baby to making a decision to choose life is a privilege. It's an experience that only grace has led me to see. For one that is considering being a sidewalk counselor, I would say listen to your heart. It will take courage and compassion, but you will come to understand the true meaning of, "joy comes from helping others." As a sidewalk counselor, that's what we are doing. We are helping save women and babies by God's grace!  -Carolyn, Intern since November 2019
Does sidewalk outreach make a difference?
Emphatically, yes…in a number of different ways! Since the start of the ministry in 2012:
The abortion facility has decreased its hours of operation from 44 to 36 per week.

The average number of weekly abortions has dropped from 38 to 28, according to Health Department reports.

3 workers have been assisted in leaving the industry.
On average, 64 gift bags are given out per week – more than 3,000 per year. Each represents an opportunity to get life-saving literature, a tract, and affordable health care alternatives into someone's hands.
Similar ministries across the country and globe such as Cities4Life, Pro Life Action Ministries, Sidewalk Advocate for Life, and 40 Days for Life have witnessed God work through their presence and prayer to save thousands of babies, cause facilities to close, and convict workers to find a new life and vocation.
How does sidewalk outreach save lives and impact the abortion industry?
Direct Impact on Abortion-Minded Women and Abortion Business
It is thought that if a woman has made it all the way to the abortion facility for an appointment, her mind is irrevocably made up. That is not the case. While not everyone stops to talk or reverses their decision, some do. The reasons why are varied, but three include:
We are a sign. Our mere presence is a reminder of what her conscience knows.

We inspire confidence. Some lack courage that they can parent. When those fears are dispelled and they truly understand what the abortion is and does, they change their minds.

We provide help and support. For those struggling with significant material needs, receiving care and assistance, such as a Pregnancy Care Team provides, gives them the fortitude to say "yes" to their baby and "no" to abortion.
These are some responses from women and couples who chose LIFE because of A Moment of Hope volunteers. See the stories tab for others.
"As we were walking in [for our abortion appointment] a lady said 'God bless all three of you' and I thought there's me, her, and oh!…the baby! We can't do this. We decided to leave."
"You were like an angel at the end of the driveway. Who knows how this day would have ended if you hadn't been there."
"I was happy to have another one. I already have two, but it's his first. He needed convincing. I didn't. I think it was God's will for you to be here and talk to him and God is working because he actually stopped [to talk]."
"I told [the counselor]: 'the condition of our family is that we can't manage to take care of our family because we have many kids. He said, 'No, don't do it. Jesus doesn't allow us to have abortions.' … I said, 'I cannot do it. We are Christians…We accepted that [truth].' [The counselor] started giving us counsel, how we're going to live, how we were going to survive, and then [he] gave us money saying 'buy what you need, you can buy gas, and I'm going to visit you guys.'"
Additionally, counselors have been able to help women by equipping their family members with truth and resources. Comments from two such individuals:
"What information and help are you offering? I have a godsister making a pregnancy decision, I want her to be informed."
"You are a blessing from God. I have tried so hard to explain to my daughter. She doesn't know all involved with this [abortion] process…please help my daughter save her baby and our grandchild. I don't want to lose our grandchild."
Indirect Impact on the Abortion Industry & In the Community
By being present, volunteers raise awareness about the existence of the abortion provider. Many are uninformed. Being present can also:
Discourage potential hires at the abortion facility.

Motivate the landlord not to renew the lease (two businesses moved to new offices upon learning the landlord was also renting to an abortion provider).

Unmask the lies of the culture.

Open doors for conversation.
Many people stop to talk. Some say, "Thank you for being here," including post-abortive men and women. Others ask, "Why are you here?" This provides an exciting opportunity to share about life in the womb and spiritual life through Jesus Christ.
What do counselors say and what help do you offer?
For women seeking abortion:
Counselors are a voice for the preborn child, explaining how that little one is alive and developing and that the abortion will end his or her life and seriously impact the mother. They share with them about the God who created the life they carry, and ask where they stand with him. Compassionately listening to their struggles and concerns, counselors present solutions and assure them that they are not alone and that there are caring people who want to walk alongside them.
Help offered includes the following:
being a listening ear

strategizing how the concerns and fears of parenting or adopting could be overcome

connecting them to the pregnancy resource center

scheduling a free consultation with an OB-GYN

offering financial assistance if needed

pairing with a Pregnancy Care Team for a baby shower and support
For women seeking healthcare services:
Counselors have a list of no charge and low cost, high quality health care options and strongly encourage clients to receive their healthcare needs from providers that are not also profiting from abortion. As one woman who was very grateful for a cheaper alternative said to a volunteer, "I'm so thankful someone was here giving other options. Planned Parenthood is all we know."
With all, we seek opportunities to share the gospel.
What kind of signs do you use?
Our signs are simple messages conveying hope and help. If you see graphic signs depicting bloody or gory abortions, they do NOT belong to A Moment of Hope, or to our volunteers.
Where do you stand? What are your rights?
Constitutionally, we have a right to be in the public right-of-way, which is 8 feet from the curb. We stand next to the driveways within the public right-of-way.
I want to come and pray. How should I prepare? Can I bring my kids?
First and always, with prayer! You will be entering a mental, emotional and spiritual battlefield where babies' lives are ended. Bring a chair if you would like. We recommend a water bottle. A bathroom is not always available. Winter can windy and chilly; bring layers. Hand warmers are a great help also. For the summer sun, we recommend sunscreen and a hat and/or umbrella. Please dress tastefully and modestly in a way that won't distract or deter clients. Avoid:
pro-life apparel

army or police apparel

camouflage

cameras or recorders
We provide signs. If you would like to bring your own, please bring one with a positive message and, depending on the day or time, be willing not to hold it up. Sometimes, too many signs can add an element of chaos.
You want to be perceived as an approachable person, not as a protester.
Parking & Children
Park on the curb. Do not park in the 2712 Middleburg Dr. / Planned Parenthood parking lots.    
Children are welcome if they can be contained within the 8 foot right-of-way. Please note the street can be busy, there are ants in the summer, and we occasionally hear profanity and are given rude gestures.
Who can volunteer?
Our volunteers are men and women from all different backgrounds ranging from teenagers to senior citizens. As an evangelical, Christian ministry, we ask our volunteers to sign a Statement of Faith and Code of Conduct.
How do I become a volunteer?
First, we encourage visiting the sidewalk to observe the ministry in action and for us to get to know one another. To become a regular volunteer, attend a training (see the Events page) and sign the Statement of Faith and Code of Conduct.
Most of our volunteers choose a regular weekly, bi-weekly, or monthly time slot. If you do not think you can take a regular shift, we frequently share needs for prayer and opportunities to fill-in as you are able.
Sidewalk counseling can be intimidating at first. At the outset, just come to pray and shadow experienced counselors. As time goes by, you will find your own voice and approach. Remember,  just being present is powerful, and we rely on God to work through us giving us courage and words.
Who can be on a Pregnancy Care Team?
Anyone who is a follower of Jesus Christ, belongs to a local church body, has a heart to serve and, if applicable, has attended a post-abortion recovery Bible study or counseling. Team members complete a training and an approval process which includes:
affirmation of the Statement of Faith
Pastoral Reference from a church leader
background check with $11 fee
Our team members represent a variety of ages and life stages. In diversity is strength. Teams are primarily women, but men are welcome to serve with a woman on the team. Giving the care team moms an opportunity to see healthy marriage and family relationships and a positive male role model is incredibly valuable. Some of the care team moms have a man in their life. We encourage men in the church to invest in him.
What are the expectations for the care teams? Do they help financially?
Unless they choose to do so of their own volition, the teams do not directly help financially. Instead, they will assist the mother to resource financial aid. The expectations for the teams includes:
Investing in a relationship for one year as a friend, cheerleader and mentor.
Hosting a baby shower.
Touching base with her weekly by phone or text message.
Meeting with her monthly face to face.
Praying for and discipling her.
Helping her problem solve, identify available community resources and, as able, assist with practical needs. This might include transportation to doctor's appointments, filling out applications, shopping, being a sounding board, teaching life skills, etc.
Maintain confidentiality.
What is the time commitment to be on a Pregnancy Care Team?
The time commitment of each team member varies significantly depending on the size of the team, availability of the team members, and needs of the expectant mother. If we were to put a number on it, we might say 2 hours per week although some weeks might be more, especially at the beginning, and other weeks might simply involve checking in by text message.
How does A Moment of Hope equip the teams?
Every care team member goes through a 3.5 hour training, covering topics such as:
difficulties the expectant mother may be facing
practical tips for communication
healthy mentoring relationships
safety
situations the team may encounter
real life scenarios
resources and further education
Additionally, teams are given a large document describing the different resources and services the mother might need (medicaid, daycare vouchers, housing, etc). A Moment of Hope is also available any time to answer questions teams may have and to coach and encourage.
How is a team paired with a mother who has chosen life?
When a sidewalk counselor meets a woman who wants a Pregnancy Care Team, a team geographically close to her will be contacted. If they accept the opportunity, the sidewalk counselor will facilitate an introduction. There is no way for us to predict when a mother in a team's area will want a team. Some teams have waited days, others months before being matched. Recognizing that a team member's life situation may change while waiting to be matched is why they are given an opportunity to accept to decline.
Is each individual care team a ministry of A Moment of Hope?
Once launched, that team is a ministry of their particular church and not of A Moment of Hope. A Moment of Hope offers ongoing support and mentoring to the teams as they want it.
Why do you have teams instead of one-on-one mentors?
A team model has proven beneficial for both the team and the expectant mother for several reasons. The two most important are:
There is a pool of skills, experiences, and availability giving the mother great help and support, which most need.

Given the magnitude of need that can exist, and depth of brokenness, one person can be easily overwhelmed. Having a team provides a built-in support system. They can share the care and emotional burden without compromising confidentiality or becoming burned out.
How can I start a Pregnancy Care Team at my church?
Contact us with your interest. We would love to talk with you about what it might look like. We can provide flyers and visit your church to explain how it works. The next step will be for you and those who want to form a team with you to attend a training. If you have a large group interested, your church can host the training.
How many people are on a Pregnancy Care Team?
Our teams have been anywhere from two to six people. The average is three. There is no specific limit, just a minimum of two.
How do I become an intern?
Contact us for the application which includes a statement of faith. After submitting your application, the next steps will be an interview and background check. The interview will include shadowing other counselors on the sidewalk. 
What qualities are you looking for in an intern candidate?
Interns must be able to physically tolerate being outdoors year round and standing during their shift. Ideal candidates are available on weekdays for at least 7 hours per week between 7 am and 5 pm. We are looking for:
commitment to the Word of God, prayer, the local church, and the Great Commission
communication skills
dependability
humility
integrity
teamwork
cultural sensitivity
a willingness to learn and grow
Support Us
Your donations help us to provide moments of hope.
Stay Informed
Sign up for our e-newsletter for ministry updates.
Serve
Learn about the many ways you can take part.
Are You an Abortion Worker?
If you are an abortion worker we can help you leave the abortion industry! For confidential help, call or text Mark at 803-348-1984.
Pregnant? Need Help?
Call or text Valerie at 803-445-5941.